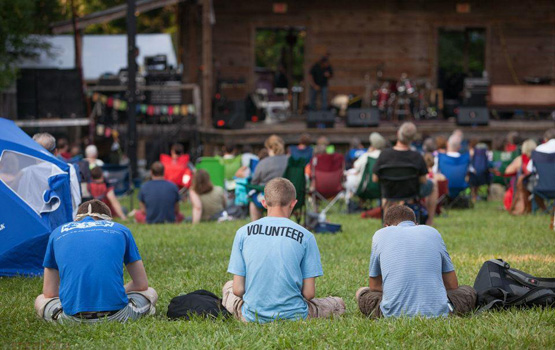 Wild Goose Festival would not be possible without an amazing community of volunteers who offer their time to serve in a variety of capacities before, during, and after the event. We are attempting to create a more equal and diverse community at Wild Goose and so our "behind the scenes" and operational volunteers are considered as valuable as contributors who speak and perform in festival venues. We invite you to consider volunteering!
The volunteer community consists of over 20 teams and 200+ people. As a volunteer, you'll have the opportunity to be part of the community that shapes, organizes, and leads the festival. In fact, we need Team Leaders who would be interested in connecting with and scheduling volunteers pre-festival. Then, during the festival, they would train, manage, and support their team. Are you ready to be a Team Leader? We need Team Leaders for: Hospitality, Set Up/Break Down, Leave No Trace, Parking, Merchandise Tent, Ambassadors, and Beer Tent. We also need a Kids Program Assistant Director and Asheville-area residents who are interested in making signs and decorations pre-festival.
Operational volunteers commit to 16 hours of scheduled service (four x 4-hour shifts pre-, during, or post-festival) in exchange for a full festival pass, Wild Goose volunteer T-shirt, breakfast each morning, camping pass, etc. The cost for volunteer registration is $40 per person. We're so grateful to all the amazing volunteers we've had in past years, and we're excited to open up volunteer opportunities for this year's festival to the public once again.
Are you ready to volunteer at Wild Goose Festival 2013? Check out our volunteering FAQ or fill out the full volunteer application form now to sign up!
Watch the Wild Goose Volunteer Experience video: